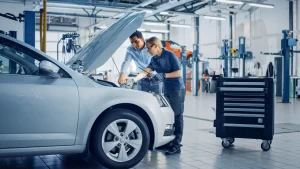 Auto repair is part of car ownership. No matter the make or model, and regardless of how well you try to take care of your vehicle, it'll eventually need repairs and servicing done by a professional. This ensures that It'll run smoothly and efficiently for years to come. 
When it 
comes time for repairs or maintenance, you'll want to choose the
best auto shop near you
. So, how do you find a service center that is reputable, trustworthy, and provides top quality services?
Choosing the Best Auto Repair Shops
As a Car owner, you rely on your vehicle to take you where you need to go on a daily basis. So when it comes time for repairs and maintenance, you'll want them to be done quickly and efficiently so that you don't lose any valuable time. However, you shouldn't skimp on the quality. Here are a few things to consider when looking for the
best auto repair shops near you
.
Experience
Experience is at the top of the list of things to look for when finding the best auto shop near you. Find out how long they have been in business and if their auto mechanics are certified, well-trained, equipped, and licensed. It's better if you can check their past work details so you can evaluate how professional and experienced the auto shop is.
Certification
Even if the auto shop claims that their mechanics are experienced and skilled, you need to make sure that they're certified. Ask if you can see proof of their license and any other certification that can support their claim that they've gone through the appropriate training and that they've got the knowledge and skills to fix cars.
Level of Professionalism
Once you've determined that you found an auto shop to get your vehicle repaired at, you should drop by for a visit to avoid any surprises. Check how organized, neat, and professional they are. Talk to the staff and check if they're friendly, respectful, and willing to answer your questions.
Reviews
The best auto repair shops near you will have excellent reviews not only on their website but also on other review sites. Some sites may even allow you to leave comments so you can ask about the quality of service they offer and the behavior of their staff. You may also try to ask people you know about the auto shop that you're considering. Perhaps one of them has used their service in the past.
Rates
It's vital to compare rates when looking into Auto shops, don't just pick the first auto shop that comes your way. Auto repair shops price their services differently. Shop around and compare their prices so you can get the best deal.
Be sure not to rely solely on the price. Choosing the cheapest option may not be the right choice if you'll be spending more in the long run because the issue wasn't properly fixed. However, expensive doesn't always mean you'll get top quality services. Be sure to do your research and choose wisely.
Don't forget to ask how long they would take to fix your vehicle. Some may take a week while others may take up to a month. The duration of the auto repair may also affect the cost of the service.
Location
You'll want to find an auto shop that is near your location for convenience. That way you'll have to travel only a short distance when you take your damaged car to the auto shop. Additionally, you don't have to travel that far to check on the progress of the car repair.
Trust Your Gut
Trust your instincts. If you think that something doesn't seem right even if the auto shop has great reviews, offers great prices, and is certified, you should walk away. Follow your gut, it's usually not wrong.
Takeaways
Considering the number of auto repair shops in the market today, it can be cumbersome to find the best auto shop near you. However, once you do, you can rest easy knowing that your vehicle is taken care of by a professional who knows what they're doing. 
So, when do you need to bring your vehicle to an auto shop? Here are some signs to watch out for:
Sign 1: If the check engine light indicator is on, you'll want to bring it to an auto mechanic right away. Don't wait for a minor problem to become a major one before deciding to get it fixed.
Sign 2: Unusual noises like grinding or popping means something is wrong with your vehicle. Bring your vehicle to an auto shop for a check-up before it's too late.
Sign 3: Avoid costly repairs by bringing your vehicle in for routine maintenance, such as oil change and tire rotation.
Schedule an appointment with
Certified Auto Repair
  today and let us help you with your car problems!