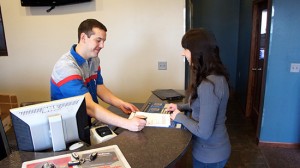 April is National Car Care month!  If you haven't gotten a jump start on the season, this is a great time to get moving on preventive maintenance.  This checklist can help you be sure that your car gets the attention it deserves this spring. 1.
Proper
 wheels & tires 
keep you safe.  Make sure that they have proper tread, are in alignment and that wheel components are in good shape.  Changes in weather can alter your tire pressure so make sure it's where it should be for spring. 2. The
 A/C 
is more than just cool air.  The compressor, evaporator and A/C unit work to keep your windows clear as well as the temperature comfortable in the heat. 3. Over the winter, your 
brakes
 can endure a lot of damage.  Make sure to get your brake linings, rotors and drums inspected at every oil change. 4. Make sure you 
check all fluids
 in your vehicle, including engine oil, brake, transmission and power steering fluid, windshield washer fluid and coolant. It's easy to overlook one or more by accident. 5.
The
 steering & suspension system 
should be inspected annually, checking for leaks, damage or loose mounting hardware. 6. Did you know that regular
 tune-ups and maintenance 
will help you burn less gasoline, can prevent inconvenient repairs and decrease your carbon footprint?  Make sure to keep a schedule or when you need to bring your vehicle in for factory scheduled maintenance. 7. Your
 exhaust system 
carries unsafe exhaust gas away from the engine and out of the vehicle, keeping you safe from harmful pollutants.
 Make sure to have your vehicle checked regularly or if you think there is an issue. 8. Inspect your 
battery 
regularly to make sure it's clean; connections are tight and corrosion-free. 9. The 
lights
 in your vehicle require replacement every so often.  Some factors that impact the need for replacement include frequency of use, weather and equipment. 10. Replacing 
belts & hoses
 at intervals recommended by your vehicle's manufacturer can prevent breakdowns, engine damage and more. Need help getting your vehicle ready for the road this Spring?  Click
here to schedule an appointment online
.  Don't forget to visit our
coupon page
for a discount on our Spring Car Car Check-Up service!