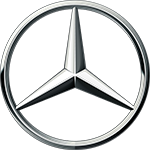 Mercedes-Benz service
: For cars that deserve Mercedes-level care
If you own a Mercedes, you can't afford to get it serviced in a way that's not up to Mercedes standards. But does it mean you have to go with a dealership? Not so fast! The level of Mercedes-Benz car service at Certified Auto Repair is nothing but stellar without putting a squeeze on your wallet.
From Service A to bumper scratch repairs to braking system component replacement, we can touch up your Mercedes whatever comes its way. Whether it's an aesthetic or technical problem, we'll fix it so that your car looks and performs at its best again. Take it to our AAA-approved Mercedes-Benz repair shop for dedicated care in every nook and cranny!
Our technicians can do small and large jobs. Newer and older Mercedes-Benz cars can be serviced, too.
Mercedes-Benz mechanics
who know their stuff
With Certified Auto Repair specialists working on your Mercedes, you always get the best service for your car. That's because we:
ensure

Mercedes-Benz service

excellence that befits ASE-certified mechanics

do all the jobs that need to be done, whether there's something to be fixed, refilled, or replaced with genuine parts

use professional Mercedes tools for diagnostics and more
Do you hate it when your service takes days in busy periods? Our Mercedes-Benz specialists in Spring Park, Minnesota, can carry it out in less time than elsewhere! We always have a vacant spot for your car, while the experience of our mechanics allows us to address any problem faster than dealerships.
For time-consuming jobs, you can get a loaner car from Certified Auto Repair. It's a great way to not have to pause your life while we service your Mercedes.
Drive your Mercedes with confidence
Your peace of mind is firmly established once you bring your Mercedes to Certified Auto Repair. Not only are our technicians so good at the German brand, but you also know your service is performed under warranty. It's our way to swear by the vehicle care we deliver for as long as two years or 24,000 miles, no matter how far you go.
This warranty covers almost all Mercedes-Benz auto repairs, maintenance, and other jobs performed by our mechanics. It applies to older and newer models and comes into effect once you pick up your car. If you aren't sure you can qualify for the warranty, we'll let you know before commencing any service.
Come when it works for you
Our working hours are not set in stone. At Certified Auto Repair, we are here even when everyone else is not. So, if Monday-Friday appointments aren't for you, we can carry out Mercedes-Benz maintenance in Spring Park, Minnesota, on weekends (upon request). Morning and evening services are available.
You can also take advantage of discounted services with our printable coupons. These can help you reduce Mercedes-Benz maintenance costs for some basic jobs, including oil changes and engine checks.
Find us at 4700 Shoreline Drive, all ready to take care of your Mercedes!
4700 Shoreline Drive

Spring Park MN 55384

Call or Text us at

(952) 471 0471
BOOK AN APPOINTMENT TODAY