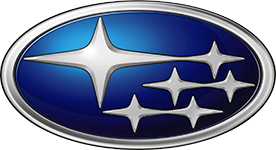 Subaru Service & Repair
The mechanical features that Subaru vehicles offer puts them into a unique position for service shops. For many shops, having the ability to work on virtually any make & model is not that easy. It requires having a combination of knowledgeable staff, proper tools and facilities, and the hands on experience to get things right. Owners of Subaru vehicles deserve to be confident that they are using a shop that does the job right the first time. Otherwise, they might be looking at extra Subaru service work that is expensive.
The Personal Touch You Need
Certified Auto Repair in Mound and Spring Park has just what Subaru owners are looking for. We employ only ASE Certified experts to work on all of our customer's cars. Big or small, there is no job that we can't handle. We have all the necessary diagnostic equipment, and our technicians are trained on the specialty tools needed for whatever Subaru service you need. We have our team go through ongoing training, so they're on top of all the latest trends in automobile designs. Whether it's brand new, or one that's got a few years on it, we are the best choice for any Subaru service or repair. Our friendly, knowledgeable and ASE Certified staff is here to help. We are not a national chain, and being locally owned we can give you a more personal experience than even the dealership can. They can't match our turnaround times in most cases either. Our goal isn't to make you into a big ticket; it's to become your shop for life. We're confident you will feel the difference with our expert advice, transparent pricing, and no-hassles guarantees on our Subaru service work. Make an appointment online today and find out for yourself.
Benefits of Certified Auto Repair
Certified Auto Employs ASE Certified Technicians Only
Evening & Weekend Appointments Here are no Problem
Certified Auto's 2 Year/24,000 Mile Guarantee Ensures Our Work Lasts
Special Offers
Ask about our monthly specials or visit our coupons page to print your coupon. You can also sign up to receive exclusive offers and money saving tips to keep your vehicle safe for you and your passengers.
Cities where Our Customers Live
Spring Park MN                    Minnetonka, MN 
Minnetonka, Beach MN     Greenwood MN
Victoria MN                            Waconia, MN
Chanhassen, MN                  Chaska, MN
Hopkins, MN                          Navarre MN
Deephaven MN                      Excelsior MN
Tonka Bay MN                       Minnetrista MN
St Boni MN                              Orono Mn
Shorewood MN                      Wayzata MN
4700 Shoreline Drive

Spring Park MN 55384

Call or Text us at

(952) 471 0471
BOOK AN APPOINTMENT TODAY